Maternity Top :  Breastfeeding Top
Kristin sent me this gorgeous bump shot recently, wearing our Purple Empire Top.   This one is suitable as a maternity top (as you can see here) and it also has an empire neckline with hidden breastfeeding access.  Most of our styles are designed for dual wear, maternity / breastfeeding.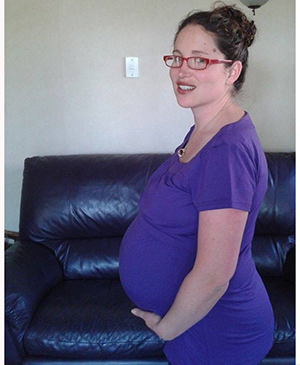 Kristin wrote to tell me:
"My parcel made it all the way to Gisborne in one day! Your service is so amazing Franny, and the fabrics feel so NICE! Thank you thank you thank you! I just love that there's room in the bust, too many breastfeeding tops don't leave room for when your milk comes in. I love that this has plenty and covers enough cleavage"
This is the sort of feedback that really makes my day!  I love it when customers tell me what they think with crucial feedback.  I think there is a fine line between cleavage and covering cleavage, specially when you're breastfeeding!
I'm going to ask Kristin to send me another pic in a few weeks after her baby arrives, so we can see the same purple top as a Breastfeeding style.
You can shop our collections: Maternity Top  | Breastfeeding Top