13 October 2009
We did an interview with a reporter the other day, and a copy is in today's paper.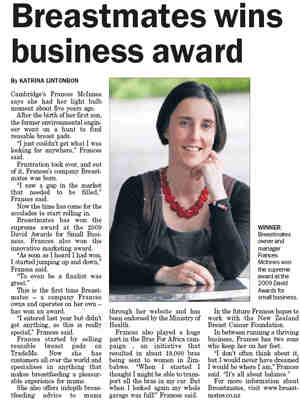 Breastmates wins business award by Katrina Lintonbon
Cambridge's Frances McInnes say she had her light bulb moment about five years ago.  After the birth of her son, the former environmental engineer went on a hunt to find reusable breast pads.  "I just couldn't get what i was looking for anywhere," Frances said.
Frustration took over, and out of it, Frances's company Breastmates was born.
"I saw a gap in the market that needed to be filled," Frances said.
Now the time has come for the accolades to start rolling in.  Breastmates has won the supreme award at the 2009 David Awards for Small Business.  Frances also won the innovative marketing award.
"As soon as I heard I had won, I started jumping up and down," Frances said.
"To even be a finalist was great."
This is the first time Breastmates – a company Frances owns and operates on her own – has won an award.
"I entered last year but didn't get anything, so this is really special," Frances said.
Frances started by selling reusable breast pads on Trademe.  Now she has customers all over the world and specializes in anything that makes breastfeeding a pleasurable experience for mums.
She also offers indepth breastfeeding advice to mums through her website and has been endorsed by the Ministry of Health.
Frances also played a huge part in the Bras for Africa campaign, an initiative that resulted in about 18,000 bras being sent to women in Zimbabwe. "When I started I thought I might be able to transport all the bras in my car.  But when I looked again my whole garage was full!" Frances said.
In future Frances hopes to work with the New Zealand Breast Cancer Foundation.
In between running a thriving business, Frances has two sons who keep her on her feet.
"I don't often think about it, but I would never have dreamed I would be where I am," Frances said.  "It's all about balance."
For more information about Breastmates visit www.breastmates.co.nz