15 January 2010

East & Bays Courier by Sarah Moyes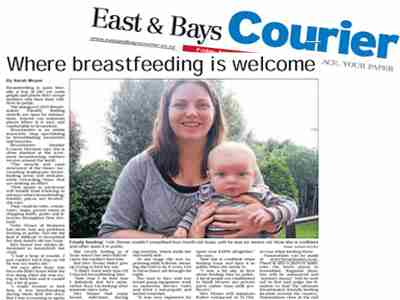 Breastfeeding is quite literally a way of life, yet some people and places don't accept mothers who feed their children in public.
The inaugural 2010 Breastmates' friendly feeding awards are open for nominations. Anyone can nominate places where it is easy and comfortable to breastfeed.
Breastmates is an online maternity shop specialising in breastfeeding necessities and luxuries.
Breastmates founder Frances McInnes says she is often shocked at the treatment breastfeeding mothers receive around the world.
"The awards will raise awareness of the issues surrounding inadequate breastfeeding areas and attitudes, while rewarding those that are making an effort.
"New mums in particular will benefit from knowing in advance where breastfeeding-friendly places are located," she says.
They could be cafes, restaurants, shops, parent rooms at shopping malls, parks and libraries throughout New Zealand.
Vicki Stoner of Remuera has never had any problems feeding in public, but she did find it difficult to breastfeed her four-month-old son Isaac.
Mrs Stoner was always determined to breastfeed her child.
"I had a heap of trouble. I just couldn't latch him on till he was six weeks old."
She says after Isaac was born she didn't know what she was doing when she was trying to feed him and it caused her a lot of pain.
"I really wanted to feed him, it was heartbreaking during those first few days. But I was screaming in agony whenever I did."
She recalls feeling as if Isaac wasn't her own child because she couldn't feed him.
But Mrs Stoner didn't give up trying to feed her son.
"I didn't bond with him till I started breastfeeding him.
"Now that I do feed him I definitely feel he's mine, rather than I'm looking after someone else's baby."
Mrs Stoner had many breast infections during those first few months including mastitis, which made her extremely sick.
At one stage she was expressing milk fulltime, meaning she had to do it every two to three hours all through the night.
She had to hire and buy breast pump equipment, went on numerous doctors visits and tried a naturopath and herbal remedies.
"It was very expensive for me to start breastfeeding. I've spent over $1000 altogether," she says.
Now she is confident when feeding Isaac and does it in public when she needs to.
"I was a bit shy at first about feeding him in public. A lot of people are conditioned to think breasts are private parts rather than milk producers."
Mrs Stoner will nominate Kahve restaurant in St Heliers for the award as she feels at ease when feeding there.
Nominations can be made at www.breastmates.co.nz. There is also a place to nominate the worst places to breastfeed. Regional finalists will be announced and "mystery mums" will be sent out to test and judge the finalists to find the ultimate Breastmates' friendly feeding location around the country. Nominations close at the end of February.
A big thank you to Vicki Stoner, a Breastmates customer who was happy to be interviewed and shared her story.  I am really glad that this type of story got to the newpaper, as it shows that YES it can be difficult to breastfeed, and with time and persistance like Vicki, then problems can be overcome.  Vicki had a particularly rough start.
Thank you to Sarah Moyes from the East & Bays Courier.