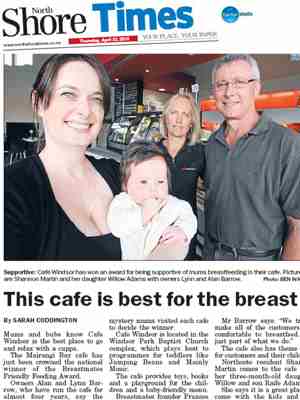 North Shore Times
This Cafe is Best for the Breast
By Sarah Coddington.  Photo by Ben Watson
Mums and bubs know Cafe Windsor is the best place to go and relax with a cuppa.
The Mairangi Bay cafe has just been crowned the national winner of the Breastmates Friendly Feeding Award.
Owners Alan and Lynn Barrow, who have run the cafe for almost four years, say the location of the cafe makes it a great place for mothers with young children.
The family-friendly cafe beat nine finalists and 85 nominated businesses for the best place in the country to breastfeed a baby.
Customers nominated their preferred cafes online and then mystery mums visited each cafe to decide the winner.
Cafe Windsor is located in the Windsor Park Baptist Church complex, which plays host to programmes for toddlers like Jumping Beans and Mainly Music.
The cafe provides toys, books and a playground for the children and a baby-friendly menu.
Breastmates founder Frances McInnes says she is blown away by the staff's attitude to service.
"From offering to cut up a mother's food so she could eat with one hand while breastfeeding to cups of water brought over unprompted to any mother they saw breastfeeding," says Ms McInnes.
Mr Barrow says: "We try to make all of the customers feel comfortable to breastfeed. It's just part of what we do."
The cafe also has theme days for customers and their children.
Northcote resident Shannon Martin comes to the cafe with her three-month-old daughter Willow and son Raife Adams, 2.
She says it is a great place to come with the kids and has great food. "It's a safe environment for Raife to play and it's the most breastfeeding friendly cafe," says Ms Martin.
Statistics New Zealand says 47.5 percent of North Shore people are couples with children, more than 5 percent above the national average.