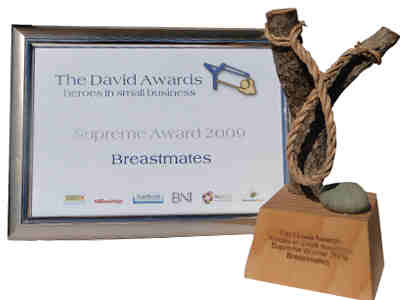 The David Awards

7th October 2009
Breastmates takes out the Supreme Small Business Award today as the David Award winners are announced. They also jointly win the title of Most Innovative Use of Marketing.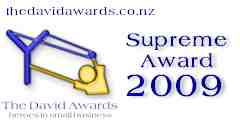 The organizer of the Awards, Heather Douglas, says, "The judges felt there was a strong and varied field of entrants this year. These finalists were inspiring, courageous business people with a passion for what they do and the determination to make it work. Some have overcome considerable adversity in order to reach the success they now enjoy."
The judges said that the marketing category was "about smart use of marketing that allows a small company to really punch above its weight. A lot of larger more established companies could learn a lot from these people in terms of how to get a market presence out there without having to spend big dollars. The great thing with Breastmates is that they really understand their market. They are using their knowledge and their experiences to talk to customers in their language," says Douglas.
The judges went on to credit Breastmates for establishing themselves as experts, and using PR and that credibility to draw people to their website.  Breastmates owner, Frances McInnes, says "I was just using my experiences to write about common questions that mums have been asking, and getting some good honest advice online to prepare people for the truth about babies. This has enabled me to slowly grow a huge advice section on my website, in addition to the online maternity store."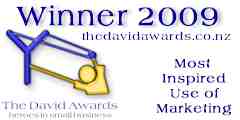 For her entry into the David Awards, McInnes drew on the success of her free marketing in particular when filling out the application forms. She usesFacebook, Youtube, twitter (@breastmates) and her blog to add a personal and informative approach for customers.
Heather Douglas says "Breastmates does amazing stuff with blogs and tweets to attract people into their business, and the perception when you have a website with that approach is that it's a much bigger company than they actually are."
Judge Nick Jones says that the David Awards are all about celebrating small businesses that have done something extraordinary. Businesses that have stood out above the rest and been prepared to take on bigger businesses, the Goliaths, of the market. The Overall Supreme winner of the Davids Awards wins an office makeover and business boot camp package.
Douglas says "With Breastmates I was really impressed by the fact that this was one woman that started with $50 and no knowledge of websites. She has gone on to create a very viable successful business but more so she has taken what is quite niche area around breastfeeding and established herself as an expert…I just think its an amazing achievement."
The photo above shows our certificate and trophy.  The trophy is a stone and slingshot, as in David and Goliath.