24 November 2009
Western Leader Newpaper (cover story) – By Melissa Chandler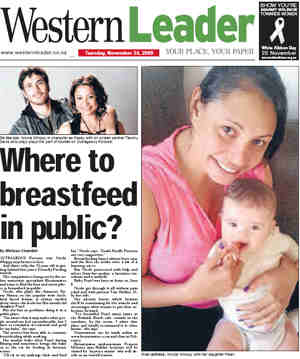 OUTRAGEOUS Fortune star Nicole Whippy says breast is best. And that's why the 32-year-old is getting behind this year's Friendly Feeding awards.
The competition is being run by the online maternity specialists Breastmates and aims to find the best and worst places to breastfeed in public. Nicole, who plays the character Kasey Mason on the popular west Auckland based drama, is always careful about where she feeds her five-month-old daughter Pearl. But she has no problems doing it in a public place.
"I'm aware that it may make other people around me feel uncomfortable, but I have to remember it's natural and good for my baby," she says. The actress has been able to continue breastfeeding while working. Her mother looks after Pearl during filming and sometimes brings the baby on to the set for feeding in between scenes.
"I'll sit in my makeup chair and feed her," Nicole says. "South Pacific Pictures are very supportive."
Breastfeeding hasn't always been easy and the first six weeks were a bit of a learning curve. But Nicole persevered with help and advice from her mother, a lactation consultant and a midwife. Baby Pearl was born at home on June 8. Nicole got through it all without pain relief and with partner Tom Holden, 25, by her side.
She already knows which location she'll be nominating for the awards and encourages other women to put their selections forward.
"I've breastfed Pearl many times at the Bethells Beach cafe, outside in the sunshine, by the ocean. I adore that place and totally recommend it to other mums," she says.
Nominations can be made online at www.breastmates.co.nz and close in February.
Breastmates spokeswoman Frances McInnes says finalist locations will be visited by "mystery mums" who will decide on an overall winner.
Photographs included:
On the job: Nicole Whippy in character as Kasey with on screen partner Tammy Davis who plays plays the part of Munter on Outrageous Fortune.
Kiwi actress: Nicole Whippy with her daughter Pearl.