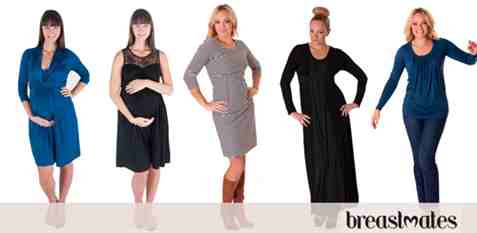 Published in Your Cambridge News.  July 2013
Local business recognised by international awards
Local businesswoman and "mumpreneur" Frances McInnes is on a high after finding out her online boutique, Breastmates, has been nominated for not one but two prestigious international awards.
Breastmates has been selected for two categories of the My Child Excellence Awards, and is up for both the "Favourite Online Retailer" and "Favourite Boutique Fashion Label" prizes. Breastmates has won several local business awards in New Zealand, but this is the first time the Cambridge-based website has been recognised in an international competition.
McInnes was especially excited by the "Favourite Boutique Fashion Label" accolade, as she only launched her Breastmates-labelled "Bump Basics" line of maternitywear and her "Bump'n'Boob" range of pregnancy-to-breastfeeding clothing in December 2012.
"I started Breastmates in 2004 with just my self-designed breast pads as my single product, and over the years I have added different ranges of pregnancy and maternity clothing and products to my stock. As I got to know my customers, the feedback I kept getting was that they wanted affordable and stylish clothing they could wear during pregnancy and breastfeeding. I have so much experience with maternity clothing, it felt natural to design my own range to fill the gap," she explains. "Fortunately, my customers have really embraced the new range and I am now planning even more designs!"
Established by Australian parenting magazine My Child, the Excellence Awards recognise market-leading products in the pregnancy, baby, and children's retail category. Voted on by readers, the awards celebrate Australian and New Zealand businesses, both large and small, that are passionate about their products – something McInnes says has always been the guiding principle of her company.
"I'm passionate about helping mums," she explains. "I set up Breastmates to help mothers, and over the years Breastmates has become not just an online store, but a supportive community helping mums around the world. It's an amazing feeling knowing that my little business is making waves not only in New Zealand, but also internationally."
Breastmates was also recently voted Specialist Retailer of the Year in the 2013 Kids Fashion Review Style Awards. "Receiving the KFR Specialist Retailer of the Year Award was the icing on the cake," McInnes says.
More information is available at www.breastmates.co.nz and  www.mychildmagazine.com.au
You can view our own label design here