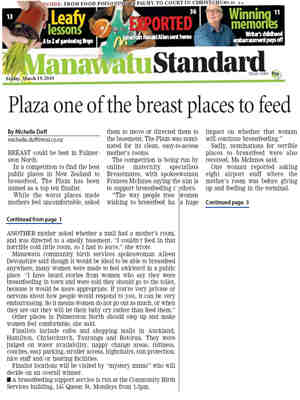 19 Mar 2010
Manawatu Standard
By Michelle Duff
Plaza One of The Breast Places to Feed
BREAST could be best in Palmerston North
In a competition to find the best public places in New Zealand to breastfeed, The Plaza has been named as a top ten finalist.
While the worst places made mothers feel uncomfortable, asked them to move or directed them to the basement, The Plaza was nominated for its clean, easy-to-access mother's rooms.
The competition is being run by online maternity specialists Breastmates, with spokeswoman Frances McInnes saying the aim is to support breastfeeding mothers.
"The way people treat women wishing to breastfeed has a huge impact on whether that woman will continue breastfeeding."
Sadly, nominations for terrible places to breastfeed were also received, Ms McInnes said.
One woman reported asking eight airport staff where the mother's room was before giving up and feeding in the terminal.
Another mother asked whether a mall had a mother's room, and was directed to a smelly basement. "I couldn't feed in that horrible cold little room, so I had to leave," she wrote.
Manawatu community birth services spokeswoman Aileen Devonshire said though it would be ideal to be able to breastfeed anywhere, many women were made to feel awkward in a public place. "I have heard stories from women who say they were breastfeeding in town and were told they should go to the toilet, because it would be more appropriate. If you're very private or nervous about how people would respond to you, it can be very embarrassing. So it means women do not go out as much, or when they are out they will let their baby cry rather than feed them."
Other places in Palmerston North should step up and make women feel comfortable, she said.
Finalists include cafes and shopping malls in Auckland, Hamilton, Christchurch, Tauranga and Rotorua. They were judged on water availability, nappy change areas, tidiness, couches, easy parking, stroller access, highchairs, sun protection, nice staff and/or heating facilities.
Finalist locations will be visited by "mystery mums" who will decide on an overall winner.
A breastfeeding support service is run at the Community Birth Services building, 145 Queen St, Mondays from 1-3pm.
See the other nominated places here