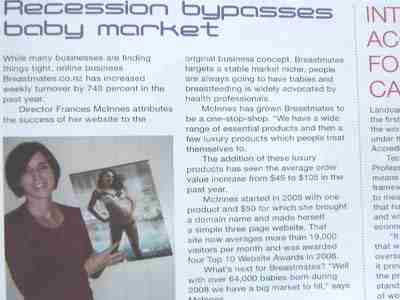 July 2009
A small feature about our business model in NZ Business Magazine
Not bad considering how I started the business from scratch, and have done everything myself over the years.
My hard work is starting to pay off.
I still do it all myself now too!
Here is the text so that you don't have to squint
Recession bypasses baby market
While many businesses are finding things tight, online business Breastmates.co.nz has increased weekly turnover significantly in the past year.
Director Frances McInnes attributes the success of her website to the original business concept.  Breastmates targets a stable niche market, people are always going to have babies and breastfeeding is widely advocated by health professionals.
McInnes has grown Breastmates to be a one-stop-shop.  "We have a wide range of essential products and then a few luxury products which people treat themselves to."
McInnes started in 2004 with one product and $50 for which she brought a domain name and made herself a website.  That site now averages more than 19,000 visitors per month and was awarded four Top 10 Hitwise Awards in 2008.
What's next for Breastmates?  "Well with over 64,000 babies born during 2008 we have a big market to fill," says McInnes.