Cambridge Edition 6 June 2012
by Laura McKoy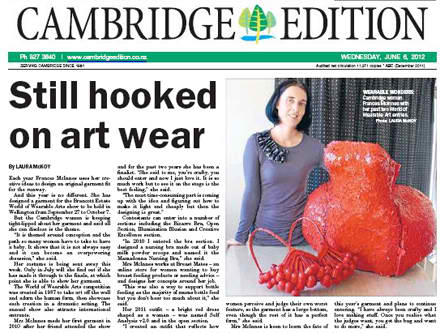 Text:
Still hooked on Art Wear
Each year Frances McInnes uses her creative ideas to design an original garment fit for the runway.
And this year is no different.  She has designed a garment for the Brancott Estate World of Wearable Arts show t be held in Wellington from September 27 to October 7.
But the Cambridge woman is keeping tight-lipped about her garment and said all she can disclose is the theme.
"It is themed around conception and the path so many woman have to take to have a baby.  It shows that it is not always easy and it can become an overpowering obsession," she said.
Her costume is being sent away this week.  Only in July will she find out if she has made it through to the finals, at which point she is able to show her garment.
The World of Wearable Arts competition was created in 1987 to take art off the wall and adorn the human form, then showcase each creation in a dramatic setting.  The annual show also attracts international entrants.
Mrs McInnes made her first garment in 2010 after her friend attended the show and for the past two years she has been a finalist.  "She said to me, you're crafty, you should enter and now I just love it.  It is so much work but to see it on the stage is the best feeling," she said.
"The most time-consuming part is coming up with the idea and figuring out how to make it light, and cheaply, but then the designing is great."
Contestants can enter into a number of sections including the Bizarre Bra, Open Section, Illumination Illusion and Creative Excellence section.
"In 2010 I entered the bra section.  I designed a nursing bramade out of baby milk powder scoops and named it the Mamadonna Nursing Bra," she said.
Mrs McInnes works at Breastmates – an online store for women wanting to buy breastfeeding products or needing advice – and designs concepts around her job.
"This was also a way to support bottle feeding as the majority of mums bottle feed at some stage, but you don't hear much about it," she said.
Her 2011 outfit – a bright red dress shaped as a women –  was namedSelf Analysis v2.0 and in the open section.
"I created an outfit that reflects how women perceive and judge their own worst feature, so the garment has a large bottom, even though the rest of it has a perfect form," she said.
Mrs McInnes is keen to learn the fate of this year's garment and plans to continue entering.  "I have always been crafty and I love making stuff.  Once you realise what the judges want, you get the bug and want to do more," she said.