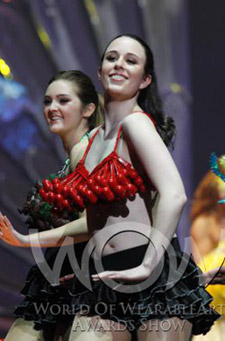 Friday 24 September 2010
Bizarre Bra busts into Wearable Art Awards
New Zealand mother Frances McInnes has proven that with plenty of "crafty ingenuity", a vivid imagination and a collection of baby formula scoops, it's possible to turn out a plastic bra so unique, it features in the Montana World of Wearable Art's – Bizarre Bra section.
Aptly titled the "maMADONNA nursing bra", this is a bold work-of-art which
gains attention and shouts "independence and confidence" while being ironic.  Mother-of-two McInnes says this is a "tongue-in-cheek" dig at the changing status of breastfeeding in New Zealand.
McInnes spent many hours crafting the art piece, which is made from an ambitious two year collection of baby formula scoops (the free scoops that come in formula tins), thread onto a hand woven wire frame, lined in felt, and painted red.
McInnes, who six years ago founded online maternity store Breastmates.co.nz explains: "I'm an advocate of happy mum equals happy baby. Whichever way mothers choose to feed their baby, they should be supported as they begin motherhood, and that's what we advocate".   It was with the help of some of her Breastmates customers that Frances was able to collect enough formula scoops to make the costume (and several trial runs).
"Maybe this nursing bra will spark a little controversy, or just make people laugh!" says McInnes, who also qualified to enter the Sustainability category with her bra  commendably being made from over 85% recycled materials. The bra was also entered in the First Time Entrants category.
Though normally hidden, the bra has shown itself in past Montana World of Wearable Arts Awards to have enormous potential for highly creative and witty reinvention in the Bizarre Bra Section.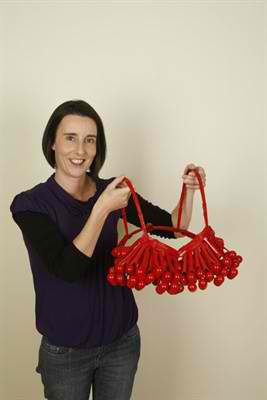 Above: Frances McInnes, with her creation