Avent Niplette For Flat or Inverted Nipples
Inverted or non-protractile nipples affect up to 10% of women causing psychological distress and making breast feeding difficult for mother and baby. During breastfeeding, usually the suckling action of the baby's mouth and tongue should draw out the nipple. If not, the Avent Niplette is a simple, comfortable solution that can help. The device makes it possible for women with flat or inverted nipples to comfortably breastfeed without the need for invasive surgery*.
When To Use the Avent Niplette

Ideally, the Avent Niplette should be used before pregnancy and be worn in 8-hour periods per day or night. If breasts are not too sensitive it can also be used in the first six months of pregnancy to achieve a permanent correction, or it can be used after the birth of the baby, for a few minutes before each feed. The Avent Niplette will suck the nipple out enabling the baby to latch on easily and help establish breastfeeding during the first few days. The permanent cosmetic correction can then be effected once breastfeeding is over, if this is the case the Niplette can be applied again from time to time.
How Does the Avent Niplette Work on Flat or Inverted Nipples?
The cup is held over the nipple areola with one hand and air is withdrawn using a 5 mL syringe so that the nipple can be sucked into it.  You're in control of the suction and can pull on the nipple as firmly as comfortable. When the nipple has been pulled out, and after carefully separating the syringe from the valve, you can continue to wear the Niplette discreetly inside your bra.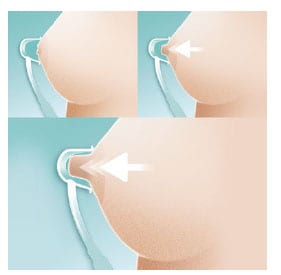 Proven Clinical Success for the Niplette
Clinical trials carried out on the Niplette proved success in achieving a permanent correction to flat or inverted nipples, whether the  condition existed since puberty, or was as a result of breast reduction surgery. Provided they had not undergone breast surgery, pregnant women who had been concerned about breast feeding all went on to breast feed successfully. A permanent correction is normally achieved in between one and three months of continuous use.
Exceptions
Niplette will not function once milk flow comes in fully. However by then baby will have become used to successfully latching on to the nipple.