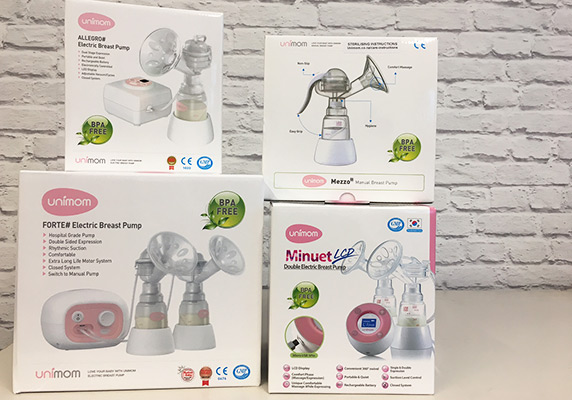 Breastmates are a leading stockist of the Unimom Breast Pump Range, we are proud to have these breast pumps online available to purchase.  (We target overnight delivery for NZ customers so if you decide to buy a breast pump online we can get it to you very quickly).
Unimom is a popular choice of breast feeding products because of their high quality standards, affordability, eco friendly and excellent customer reviews.  The pump performance and ease of use are our key considerations.
The Unimom Breast Pump range includes a basic manual pump (the Mezzo pump) which is ideal for very light use – such as once per week.   The single electric breast pump the Allegro, which is good for frequent use such as 2-3 times per day.  The Allegro unimom breast pump also has the ability to be used as a double pump in the future, by purchasing a second breastshield kit, if you needed to.     Then the Unimom Forte is the hospital grade breast pump. (double).   This unimom breast pump has a closed system, and a very high grade motor which is suitable to be used for all feeds i.e. mums that are expressing exclusively for all of their baby's feeds.   The forte unimom breast pump has enough motor capacity to handle high use.
The newest unimom breast pump is the Minuet.  This is a new generation model with extra features, such as massage and expressing mode being separate for a mother to choose. It has on trend features such as LED screen and USB port.   The only difference is it is NOT hospital grade there for will not endure full time, long term use. It is still only a part time pump up to 4 x per day with some infrequent extra use (more durable than the Allegro).