Have a heart for mums with PND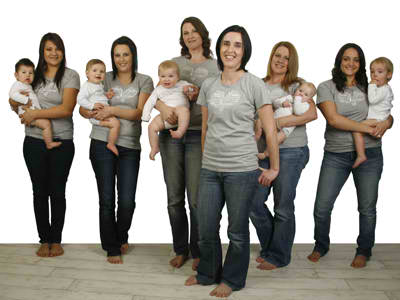 L-R: Ashlee Wahanui and baby Quinn,, Roseann Allan and baby Lilly, Sarah Taylor and baby Lucy, Breastmates owner Frances McInnes, Beverley Ashburner and baby Mollie, Rebecca Broadbent and baby Oliver.  Photograh: Baby Shots
Postnatal depression (PND) affects 20-30% of Kiwi mums, yet the ongoing stigma attached to mental illness continues to mean that too many suffering women are silent about what they're going through.
Breastmates owner and mum of two Frances McInnes says, "I had PND with my second baby, and I just felt overwhelmed with everything. I felt like a failure for admitting it, but I knew I should have been enjoying my son instead of feeling burdened."
To raise awareness and give hope to mums suffering PND, Frances has designed a beautiful heart filled with words of love, screenprinted on a women's T-shirt and baby bodysuit, which will be sold on the Breastmates website. 100% of the proceeds from her "My Heart's Content" range will be donated to The Perinatal Mental Health NZ Trust (PMHNZ) to provide support and counselling to mums with PND.
As well as experiencing PND firsthand, Frances has heard from hundreds of mums suffering from PND via www.breastmates.co.nz and the Breastmates Facebook page (www.facebook.com/breastmates). "The pressures of breast- versus bottle-feeding can often lead to PND, so let's remove the pressure and do what suits our own families. I hope these T-shirts will help people to start a conversation about PND," Frances says.
Some of the mums modelling the "My Heart's Content" range experienced PND and were brave enough to come forward with their stories.
Roseann Allan, mum to Lilly (10 months), recalls, "I had PND after my second baby was hospitalised at four days old. It was very stressful and hard."
Sarah Taylor, mum of four children including Lucy (six months), explains, "It was like the first year of giving myself to these little people had finally drained me of all I could give."
Rebecca Broadbent, mum to 18-month-old Oliver, says, "During the first six months of my son's life I felt overwhelmed and anxious. I didn't want anyone to say I had PND, because then I'd feel even more inadequate. Now I know that it's okay to say I had PND, and I know what to look for when I have more children."
Admitting something is wrong is the first step toward healing PND, Frances says. "Help is available, so mums don't have to feel like they're all alone if they're suffering from PND."
Tracey Tarver of Baby Shots Photography, who photographed the six mums, adds, "We are delighted to be involved with this awesome campaign. It is great to know there is support for mums who need it."
–ENDS- For more information or for high-res images, please email Frances McInnes at [email protected] or phone 07 827 8235.
For more information about Perinatal Mental Health NZ Trust email [email protected]