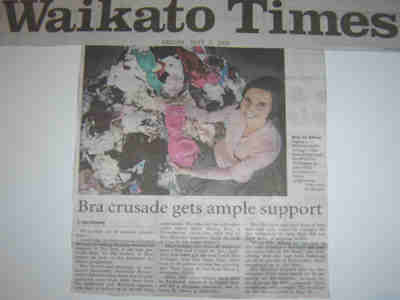 May 2009
Bra Crusade Gets Ample Support
By BEN STANLEY – Waikato Times 01/05/2009
Photo: IAIN McGREGOR Waikato Times
Caption: BRAS FOR AFRICA: Frances McInnes sorts through more than 2500 bras destined for Zimbabwe as part of the Knickers for Africa programme.
Here is a copy of the text for you from the paper
Bra Crusade Gets Ample Support
It's a boob job of massive proportions.
Cambridge businesswoman Frances McInnes is asking Waikato women for support, in the form of old and pre-loved bras, for the women of Zimbabwe as part of the Knickers for Africa programme.
The owner and manager of web-based maternity business Breastmates Breastfeeding Store has already gathered more than 6000 bras from the Auckland and Waikato regions, and aims to collect up to 30,000 bras nationwide. The idea for the collection came about when Morag Roy, a Zimbabwean expatriate, told one of Mrs McInnes' suppliers about the lack of bras in her home country.
"Most women over there do not even have a bra and if they do, they probably only have got the one," said Mrs McInnes, who has more than 2500 bras of all colours among her growing pile. They range in size from 8A to a whopping 20HH.
About 3500 have already been sent to Auckland, where it is hoped they will fill a shipping container, due to leave for Africa in mid-June.
Mrs McInnes said that bras of any size and style would be accepted for the collection, as long they did not have holes or missing hooks.
"We're only asking for the ones at the back of people's drawers, not your favourite ones at the front," she said, adding that she had been receiving about 10 parcels of bras a day, some containing up to 100 bras.
Mrs McInnes insisted that the distribution of the bras would not be imposing on Zimbabwean culture, instead giving the African woman "more confidence and prestige". The deadline for the bra collection is May 15 2009.
Collection is now closed.