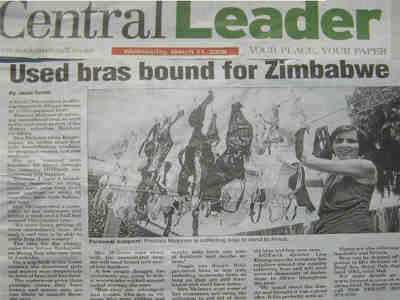 March 2009
To save you squinting to read the article, I have pasted it below:
Used Bras Bound for Zimbabwe
A Royal Oak resident is offering support to African women on a very personal level.
Frances McInnes is collecting secondhand bras to send to the continent as part of the charity collection Knickers for Africa.
Mrs McInnes owns Breastmates, an online store that sells breastfeeding products for pregnant women and new mothers.
She got involved with Knickers for Africa through the company HOTmilk, her maternity bra supplier.
"Because I have a breastfeeding business, so many mums have bras they don't wear anymore or won't fit once they have their babies," she says.
Mrs McInnes sent a newsletter to her customers and within a week and a half had around 150 donated bras.
"It's quite funny getting all these secondhand bras. It's such a cool way to be able to really help these women."
The idea for the charity came from former Zimbabwean Morag Roy, who now lives in Australia.
On a trip back to her home country, she discovered girls and women were desperately in need of bras and knickers.
The underwear gives them prestige, shows they have money and means men are less likely to assault them, she says.
Mrs McInnes says along with the secondhand bras she will send brand new end-of-line knickers.
A few people thought the underwear was going to tribal women who walked around naked anyway, she says.
"But they are schoolgirls and women who live in villages who wear clothes and maybe only have one pair of knickers and maybe no bras."
People can donate their pre-loved bras in any size, including maternity bras, as long as they are still functional and don't have holes.
Mrs McInnes says some of her customers are using the collection to get rid of their old bras and buy new ones.
HOTmilk director Lisa Ebbing says the company has retailers around the country collecting bras and will send several shipments of underwear to Africa throughout the year.
"We heard about the charity and thought it was a great idea. It fits perfectly with us."
Stores are also collecting in Australia and Britain.
–collection now closed