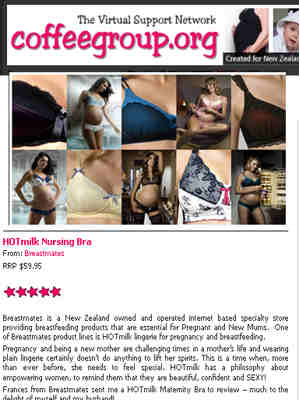 August 2009
Some of our products were reviewed on the Coffe Group website
By Susan Domett
Breastmates is a New Zealand owned and operated internet based specialty store providing breastfeeding products that are essential for Pregnant and New Mums. One of Breastmates product lines is HOTmilk lingerie for pregnancy and breastfeeding.
Pregnancy and being a new mother are challenging times in a mother's life and wearing plain lingerie certainly doesn't do anything to lift her spirits. This is a time when, more than ever before, she needs to feel special. HOTmilk has a philosophy about empowering women, to remind them that they are beautiful, confident and SEXY!
Frances from Breastmates sent me a HOTmilk Maternity Bra to review – much to the delight of myself and my husband!
I have pretty much been pregnant or breastfeeding for the past 4 years and despite all the rewards that come with having a baby and creating a family – the process sure does take its toll on your body. Along with being tired, struggling to lose the baby weight, and feeling more like a milking machine than a woman (at times!), well it's no wonder that you don't feel overly sexy and good about yourself. I have had the same old tired, stretched, black maternity bras for 2 pregnancies and I didn't quite realise how bad they were until I received my new HOTmilk bra.
I chose my bra off the Breastmates website and as they all looked gorgeous and I couldn't decide which one to get – I let my husband choose! (well what is the point of having sexy lingerie, anyway..!) I followed the Bra Sizing Guide on the website, which has a great video demonstration so that you get it right and worked out my size and when it arrived it was a perfect fit! (For the record, if you are breastfeeding – make sure you measure when you are full ie before a feed!!)
We chose the "Silhouette of a Secret" style and it is a gorgeous pink and black lace nursing bra with a black satin bow in the middle with a small diamante flower. It is a very supportive bra and gave me an immediate 'boost' despite not being underwire. I feel like a new woman every time I wear it! It is great for breastfeeding, with the dropdown cup and it is really comfortable. I find some maternity bras irritate me with their seams but not this one. I will be wearing this bra, long after I stop breastfeeding – it's better than all my normal bras!
Frances from Breastmates is fantastic and will go the extra mile for you with her customer service.
Feeling good about yourself is so important and it is all too easy to lose yourself in motherhood. I highly recommend next time you feel like a boost – treat yourself to a new HOTmilk bra (or matching set!) and rediscover the sexy woman in you. After all, your partner isn't going to complain about it!