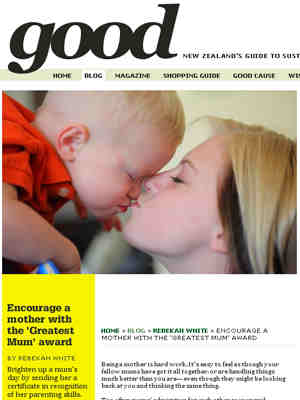 GOOD Magazine Blog

Encourage a mother with the 'Greatest Mum' award
By Rebekah White
Brighten up a mum's day by sending her a certificate in recognition of her parenting skills.
Being a mother is hard work. It's easy to feel as though your fellow mums have got it all together, or are handling things much better than you are-even though they might be looking back at you and thinking the same thing.
Too often mums' admiration for each other goes unsaid. That's why maternity store Breastmates has created the 'Greatest Mum' certificate-to allow mums to give each other a pat on the back.
The certificate, which reads, "You are doing such a great job as a mother", can be downloaded from the Breastmates website and awarded to the supermum of your choice.
Breastmates founder Frances McInnes says mothers often feel as though they're not doing a good job:
Something as simple as encouragement about how well your child is doing can mean the world of difference to a mum.
If someone just comments on what I am doing as a mum, it really makes me feel encouraged. This year my goal is to help mothers feel confident in their parenting ability and in the choices they make.
Receiving a certificate could be the bright spot for a fellow mum during a difficult day with the kids. And if you receive one, you'll know that your parenting skills have been noticed!