The October 2009 issue of Little Treasures magazine includes an article on pretty maternity bras, following a telephone interview that I had done with the writer.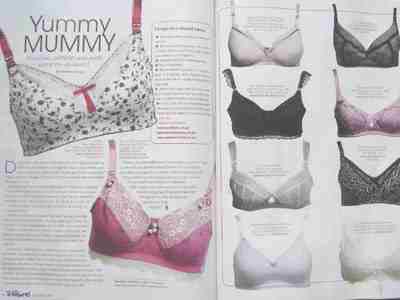 Yummy Mummy – Function, comfort and even some va-va-voom.  By Vanessa Johnson
During the early weeks of pregnancy changes start takign place in your breasts – and guess what -your boons now have needs!  Bra choice is no longer just about aesthetics, forget optimal clevage, the new priority is comfort and underwires are a no-no.
Mamalicious breastfeeding educator, Chris Kelly, explains.  "Underwires put pressure on the breast, which can cause blockage to the milk ducts because the ductal network extends under the armpit area.  It's best to move to a comfortable soft-cup bra before moving to a maternity bra."
When you're ready to make that last bra step, usually four to six weeks out from your due date says Chris, the options are quite impressive.  Pretty, frilly, lacy, and sexy – today's maternity bras aren't mumsy.  However the experts recommend you choose a maternity bra based on how comfortable it feels, and comfort starts with the right fit.
Essentially there are two bra measurements to be aware of when considering maternity bra size.  The cup measurement, which Frances McInnes of Breastmates says is usually one cup larger than your normal bra size, and the band measurement, which is taken directly under the bust.  "It's actually the band measurement that grows, not so much the cup size, because as your tummy grows, your ribs expand, which is why maternity bras have more hook settings," says Frances.
Find a comfortable bra if your breasts are extra-large can be difficult, but Auckland lingerie shop Avakado specialises in bigger bras.  Owner Claire Long says the Freya brand is particularly good, as it goes up to an H cup, while Little Treasures columnist Jody Hopkinson, who wears a G cup while breastfeeding, says Triumph Maternity bras get her double thumbs up because of their support.
Things you should know:
Bra cups should be lined with soft cotton
make sure there are no seams running directly over the nipple as this can cause skin irritations
you will need 2-3 maternity bras
no underwires
wash maternity bras in a laundry bag or pillow case tied in a knot.  Remember to do the hooks up before washing.
maternity tops and nighties with built-in bra support are great for time out of a bra and ideal for sleeping in.
If you find you're sweating under the bust, sprinkle Curash nappy rash talcum powder can hel keep you dry.
Alot of this article was based on the phone interview that I had done with the writer
The magazine then photographed a selection of HOTmilk, Cake, Triumph, Womama, Lovable & Elle Macpherson maternity bras.