Breast Pump has Lost Suction
If your breast pump has lost suction – there is one key component – the tiny white membrane.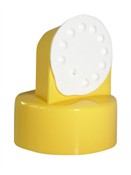 Firstly make sure the breastshield forms a complete seal around your breast, and that this is not cracked.  (we have replacement replacement breastshield available).
Check that all the breast pump connections are secure.
Check that the little white membrane disc is flat against the yellow valve head, and make sure that these are both clean and not damaged. They must have no milk residue, rips or tears.
Check that the tubing ends fit securely into the back of the breastshield and into the breastpump hole.   * take care not to kink the tubing.
Hopefully this will resolve your issue.  Or contact us if not and we will try and help further.
If you find that your items are damaged or missing – you can order spare parts.