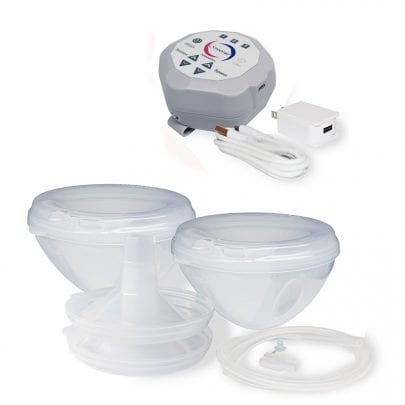 Sheena is a local mum with two children.  She's had a lot of experience with using breast pumps with both her first and second babies.   Due to some health issues, Sheena needed to express all feeds for her second baby, and she upgraded to a Freemie Breast Pump.     Based on her experience of using lots of pump brands that she'd purchased through Breastmates over the years, we thought we'd ask a few questions about the Freemie Breast Pump.
How do you rate the Freemie breast pump in terms of performance compared to other breast pumps you have used?
I've used unimom, medela, Phillips – I've used just about all the brands out there but the Freemie Breast Pump with its totally personalised settings allow you to fine tune it to make it so natural, no tugging or pain at all. The thing that this one has over all others on the market is the ability to multitask and multitask in public without needing to buy any specialty hands free bras.  Due to the way the breastmilk collection shells sit inside your bra, you can wear it under clothes etc, unlike other pumps that the shields poke out.   Expressing is no longer a task to do and instead something that just happens as I go about my day and just like magic I then have fresh milk. I am expressing just over 1.3 litres per day
How long do you pump per session and what sort of volume do you get?
My first pump of the day is half an hour and I get 500-600 in that session alone. A standard pump is 20 minutes. If I'm driving I just let it go for the time I'm in the car. I exclusively express and actually am pumping more than I need to because it is so easy to do with a Freemie Breast PUmp.  I donate milk to a baby whose mother doesn't produce milk and I meet all their milk needs plus my own child.
Would you recommend this to other mums?
Yes I would recommend for anyone exclusively expressing I see no other sensible way to do it than with a Freemie. For those going back to work it's ideal due to it being like a little secret working away under your clothes and doesn't make coworkers uncomfortable. It is quiet and discrete.

Is it value for money?
You can't put a value on a mother's time!