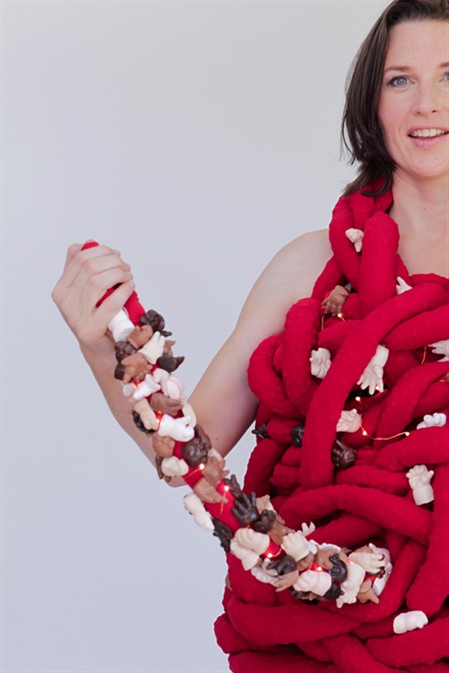 The intertwining of infertility and hope is the central focus of a Cambridge businesswoman's entry into this year's Brancott Estate World of Wearable Art (WOW) competition. Frances McInnes's striking costume, titled "Umbilic", was inspired by the numerous stories of infertility, pregnancy loss, miscarriage, and stillbirth that the artist has heard from friends and clients of her online maternity boutique, Breastmates.
"For so many women, the path to pregnancy is incredibly difficult," Frances explains. "I wanted to acknowledge how heartbreaking it can be when pregnancy doesn't 'just happen'."
The costume consists of a strikingly outsized umbilicus which Frances says represents the overwhelming desire many women have to become pregnant. "Conception can become an obsession, tangling with every aspect of your being," she explains. "The umbilicus is interspersed with fairy lights, which represent the tiny sparks of hope that each woman who faces fertility issues must hold on to in order to get through fertility treatment."
Frances says that the creation of Umbilic was a collaborative effort. "I asked the mums on the Breastmates Facebook community to send me photographs of their own babies' hands, and then I modelled the babies' hands on the costume from these real-life miracles. Babies' hands are beautiful and fragile, and the feeling of a newborn clutching his mother's finger for the first time awakens the most fierce, protective, primal connection between a mother and child. So many women fear they won't ever get that opportunity.
"Infertility is a very real condition that is becoming more and more prevalent among Kiwi women as the median age of childbearing increases beyond age 30," Frances says. "I wanted to pay tribute to their bravery and their fragile hope that someday, they will hold their own baby in their arms and know that their suffering was worthwhile."
This is the third year in a row Frances has entered WOW, and Umbilic was a semi-finalist this year, getting through to the first round of judging.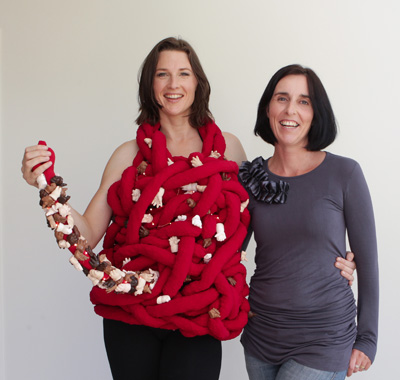 "Umbilic" design modelled by Sarah, with Frances on the right.
Made from: material tubes filled with polystryene and tangled together for the umblicus.  Then I carved two baby hand poses, and used those to make moulds at various angles, to then make hundreds of hands from Plaster of Paris which I painted skin tones.  Some Behind the Scenes Pics here
2010 Costume: Mamadonna Nursing Bra
2011 Costume: Self Analysis
SPECIAL thanks to my friend Sarah who models my creations!