I have been given the older medela swing single pump and would like to replace all the parts except the motor. Can you please help guide on what i need. As i know there are newer models with replacement parts. Thank you!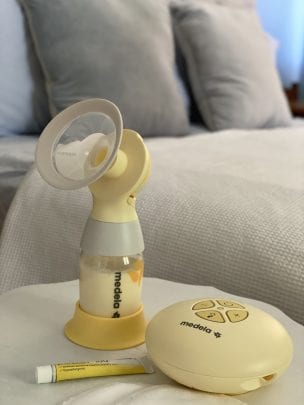 Yay lucky you on being gifted a medela swing breast pump – these are such a great model for expressing mums, and medela is one of our favourite brands.  We know it can be confusing with the spare parts, particularly that there are old models and the newer models available.
The good news is for the Swing pump you have two options.  You can replace the parts as per the original one model, or you can upgrade the parts to new Flex technology.  I'll detail both options below.
Replace Original Swing Breast Pump Parts
I have a custom webpage here:  Medela Swing Breast Pump Parts  which has a list and diagram at the bottom so you can match up what you need, and there's an easy shopping part so you can tick what items you need.  Though please note that these original spare parts , such as the Elbow Connector and tubing, will be in limited supply into the future, and you'll also need a set of Valves and Membranes to go with the original parts.
Upgrade to New Flex Technology
I would recommend that you upgrade the parts to the new Flex option.   These Flex parts will be compatible with your Swing single breast pump motor.  This means the breast shield, tubing, and connector pieces will be in the new flex technology which many mothers are finding more comfortable to use, and it will work out cheaper than buying the original pieces.  So this is a great option for you with the gifted breast pump.   In which case you will need to get these items I'll list below (and it will work with your motor)
New Swing flex Tube (as the original tube won't fit with the new flex connector)
New Flex Connector
New Flex Breastshield (various sizes, the ones in the boxed set are 24mm which suits most people).
You don't need the Valves and Membranes if you are using the flex connector, so this is another saving.
Hope that helps, but do sing out if you have other questions