Shopping for a Portable Breast Pump?    This is a common type of inquiry we get……
 I am looking at portable breast pump options that I can use to pump while moving around or holding my baby. I currently use the Unimom Forte but would like to have a bit more freedom to move around while pumping sometimes, and also have a pump that I can have at work. I have low milk supply so pump after every feed to give as top up (baby is 6 weeks old).

Do you have a recommended portable pump? Is there much difference between the Unimom Minuet and Medela Freestyle Flex? How does the Freemie differ?

Do you have good options that can be used as both a nursing and pumping bra?
Yes we can certainly help you.   We have a range of breast pumps on our website, which are all suitable for different situations and depending on the type of use you need for pumping milk.
Noted in your questions that you need some portability, the Unimom forte is very big and heavy, and you're restricted having to sit next to the power plug anyway.
Based on that amount of pumping that you are doing after each feed, and needing to pump at work, you need a quality pump that can handle that frequency but also be small and portable, and quiet.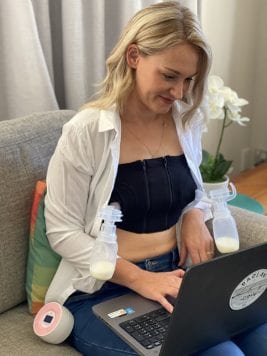 All three Medela Freestyle, Freemie, and Unimom Minuet are great pumps and suitable for the frequency of expressing you are doing, high grade performance yet also compact and quiet.     These are all around the same size each, they fit in your hand (or pocket) and so are very portable. All 3 of these pumps can be used portable with rechargeable batteries – so you're not stuck next to the power plug.    Add in a Hands-Free pumping bra and it will really give you more freedom to pump and be mobile.    Particularly good if you have a toddler to look after aswell as your baby you are pumping milk for.
These 3 are all high grade pumps, and are suitable for use for all pumping or light pumping.    The Medela Freestyle is the highest spec – but that's only in terms of extra bells'n'whistles'  for example a timer, a back light, and connecting to an app.   The other  2 pumps don't do that.   But all 3 of these do result in the same performance in terms of expressing milk which is the main thing.
The difference with the Freemie pump is that it has rounded boob shape cups that connect to the tubes, and these sit inside a bra (like a stretchy bra)…. Meaning that you don't have the breastshields poking out while pumping like with the Forte.  So with the Freemie, you could pump with it under your tshirt or in the car etc, and no-one could see it.    But you can't do that with the Freestyle or Minuet.
The medela and unimom bottles are the same size so they could interchange with what you've been using already.  You'd just need to add in a teat also.
Let me know if there is anything else I can help you with
Franny
–  You may also like –