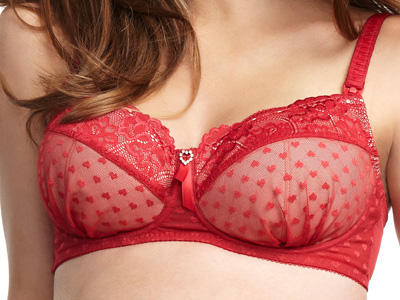 Tori was a Guest Reviewer for our new Hotmilk Bra "Light up the Stage"
She writes:  Recently, Frances from Breastmates asked me to review the Hot Milk Light Up the Stage bra in red. I'm a 36-year-old mum of two sets of twins. My now 3-year-olds breastfed to 12 months and my youngest are currently 3 months and exclusively on the boob. My go-to maternity bra is the no-frills Triumph and if I'm "feeling it", the lace Triumph. I'm a sucker for pretty lingerie when I'm not breastfeeding (5 cup sizes down!), but right now… well suffice to say that I don't have time to fidget with underwear that isn't strictly functional! Currently being a 16F, there's a very narrow range of underwear that does the job well.
To look at, the bra impresses with gorgeous detail – the sweet diamonte heart sewn at the cleavage; the gorgeous ruched fabric at the bottom of the cups – I assumed that such a pretty bra was a waste of time for those of us with some super-sized girls to house. Then my hubby saw it. He was impressed. Racy red… I tried to remind him that it was just a breastfeeding bra, but perhaps breastfeeding and sexiness are not mutually exclusive concepts after all? When I put the bra on, I've got to admit that it made me smile to feel just a bit extra special.
As red as the bra seems to be, I was impressed when the hue looked far classier and more expensive on than I imagined. It's quite a true red – the kind that is flattering on pretty much every skin tone. The fine details are actually quite flattering, particularly the under-bust ruching.
The bra has a thin foam layer – I'm not usually one to want any extra padding, but this foam actually serves the useful purpose of imparting a good deal of support: moulded and firm which positions the boobs well in addition to allowing the lace overlay to sit well in all the right places. The foam also gives the added bonus of concealing prominent nursing nipples. Over the years I've found that the trick with supportive bras is often the comfort compromise – that is, when the girls get bossed around by a piece of fabric, the cut really needs to be spot on. And so it is with the Hot Milk Light Up the Stage bra.
Nursing access is simple – the whole cup comes away allowing good skin to skin contact with baby and giving the breast complete freedom.
I do have a couple of Hot Milk bras already, and I was impressed to find that this bra is true to my usual size in that brand, a cup size bigger than what I need in the Triumph. The other Hot Milk bras I have aren't quite as pretty and haven't been as supportive as this one – so they generally live at the bottom of my undies drawer except for special occasions. But the Hot Milk Light Up the Stage bra is set to go into higher rotation in my wardrobe!
In short, this bra really redefined what I thought was possible in maternity lingerie. Let's face it, everyone gets a flash of what's under my top at the moment, so it might as well be something glorious to behold. I was pretty sure that the boring stuff was the only thing that was comfortable and really worked, the cute stuff being reserved for the supermodels among us. Not so. The Hot Milk Light Up the Stage bra ticked so many boxes, and has just given this Mama her mojo back.