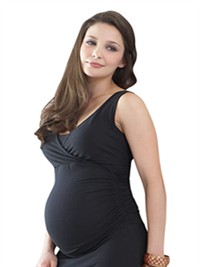 Maternity clothes have  come along way in recent years – gone are the pinafores, smocks, and gigantic dresses.  These days garments are figure hugging and flattering to show of your gorgeous belly and suit your mummy curves.
The basics of maternity clothes include the following:
maternity tops and tshirts.  Designed with a good fit across your shoulders and stretch over your bump, generally slightly longer in length than standard pre-pregnancy tshirts, and with a curved dip at the front so there is enough fabric to cover your bump.  Ruched sides to allow for shape.  Many designs are also suitable to be used as nursing tops when baby is born.  Look for clothing in easy care fabrics.
Maternity tunics are very practical, as they can easily accommodate your shape.  These go great with leggings and boots.  Team them up with maternity tights  – these are specially designed with a wider belly gusset and don't gut across the top of your bump.
Maternity jeans and pants, and summer shorts:  these are designed with either a stretchy waistband or extendable elastic.  Maternity pants with stretchy waistbands are so functional!  You can wear the waistband pulled up over your belly which is a great way to bridge any skin gap that might be showing below your tshirt, and it also provides gentle support.  Alternatively you can fold the waistband lower and wear it over your hips.  This functionality ensures that the pants can last you throughout your entire pregnancy.
Maternity jeans with extendable elastic – these are made with elastic that you can access in the waistband and you can pull tight or loosen, and fasten through a specially placed button at the fly opening.  This means that you can adjust your pants as your belly grows.
Maternity skirts are popular – wear with tights and boots in winter, or sandals in summer.  These are generally also made with stretchy waistbands that you can roll up or wear down.  Bright bold patterns are a great way to feel fantastic.
Maternity dresses are available online too, which are great for a special occasion like attending a summer wedding.  Maternity dresses usually have a fitted effect across your belly.
Even if you are a larger plus size women – wearing fitted maternity clothing is more flattering than wearing looser garments which will tend to exaggerate your size.
The crucial piece of advice that we can give you when it comes to buying maternity clothing – DO NOT wear your partner's tshirts.  They won't be flattering at all, and you need to cherish your new body shape rather than hiding under his baggy tshirts!!