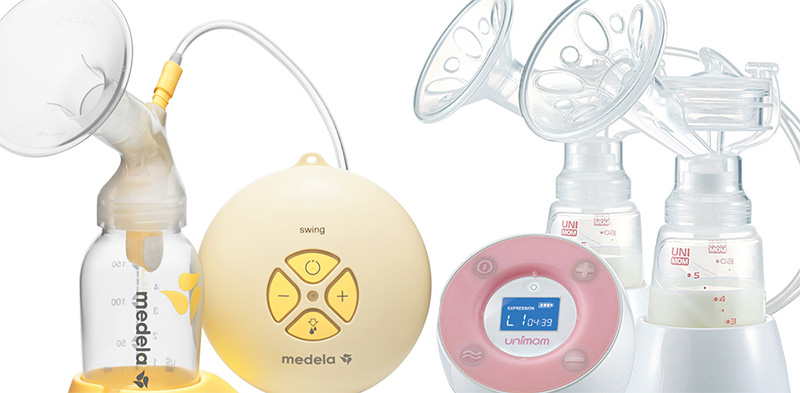 A customer recently wrote to us, inquiring about which breast pump would best suit her needs.
She wrote, "I am looking at purchasing a new electric breastpump. I do have a Medela Pump in Style which I used to pump full time when my first baby was born, but i think i want something a bit more compact and portable this time. It will also only be used occasionally, probably a few times a week this time. I was looking at the Unimom and the Medela Swing. Would you recommend one of these over the other?"
We discuss a few options below:
Based on your requirement of using the pump a few times a week, I'd recommend either the Unimom Allegro, Unimom Minuet, or Medela Swing breast pumps.
The Unimom Minuet Breast Pump is the smallest and lightest pump in our range, but it is still very powerful and has a great suction and variable control. It is tiny and light to hold in your hand, and quiet to use. This model has a couple of advantages over the Allegro and Swing – and offers a bit more flexibility in the power supply.  It can be charged with power plug or a USB charger.  Whereas the Allegro and Swing can both take batteries, or use it plugged in to power point.
The Unimom Minuet Breast Pump is very good value,  its a fraction of the price of the Medela Swing yet offers Double Pumping!   This will save a lot of time, and also results in more milk being expressed than if you did one breast at a time.  The pricing difference is really because Unimom is made in Korea and Medela in Switzerland.
The Allegro is a single pump, but if you did want to use it as a double you just need to purchase an extra Breastshield kit.  However the motor unit on the Allegro is a bit chunkier and heavier.
Both the Unimom Minuet Breast Pump and the Medela Swing would be good to use along with a hands-free pumping bra, so that you could pump and be a bit more mobile in your home at the same time. Specially if you are running around with busy toddlers!  The pumps are small enough to do that, you'd just pop the motor in your pocket or a little hang bag, and attach the breastshields through the special hands-free bra.
Unimom and medela have the same size bottle necks, so they would be interchangeable with the bottles that you already have.
For my recommendation to you, I'm leaning more towards a double pump, since you have used one before, and they really do save so much time. I recommend the Unimom Minuet to suit your needs.