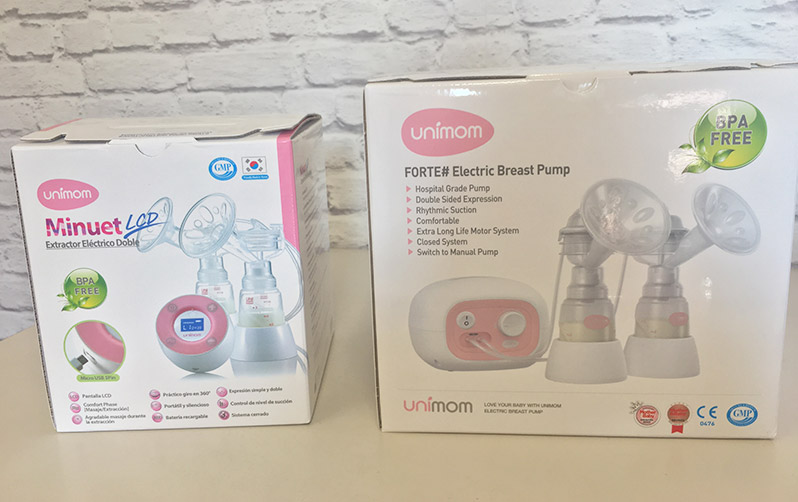 Are you wondering what are the differences between the two Unimom double pumps  – the Forte Breast Pump and Minuet Breast Pump ?   We'll take a couple of minutes to go through the main differences, which you might be considering for your shopping purchase online at Breastmates.
Frequency of Using Breast Pump
The main difference depends on how often you plan to use it. The Forte Breast Pump is designed to be used exclusively for all of baby's feeds every day. The motor has enough capacity to handle pumping 6-8  times per day. Suitable for someone that is relying on expressed breast milk for all of their baby's feeds.  That is what makes it hospital grade.
Whereas the Minuet Breast Pump is designed for part-time pumping, such as 4-5 times per day.  The motor will not be able to handle pumping more than this.
Size
The motor on the Forte breast pump is quite bulky, and a bit heavy.   In our opinion, to use the breast pump you'd need to be sitting down, with the pump motor next to you on the couch or a table (and close to a power plug).  It is too heavy to hold it in your hand and pump at the same time.   You'd need a big bag to carry it in, along with all the other pumping gear such as breastshields, bottles, ice packs etc.
The Minuet is really tiny and light, it fits in the palm of your hand and probably only weights about 200g (estimating).  You could fit it in your handbag.   This breast pump would be easy to wear a pumping-bra and then you could be more mobile.  For example you could pop the motor into a big pocket or hoodie, add a handsfree bra to hold the breastshields on your boobs and then continue pumping and walking around if you needed too. Ideal if you are busy with toddlers on the go!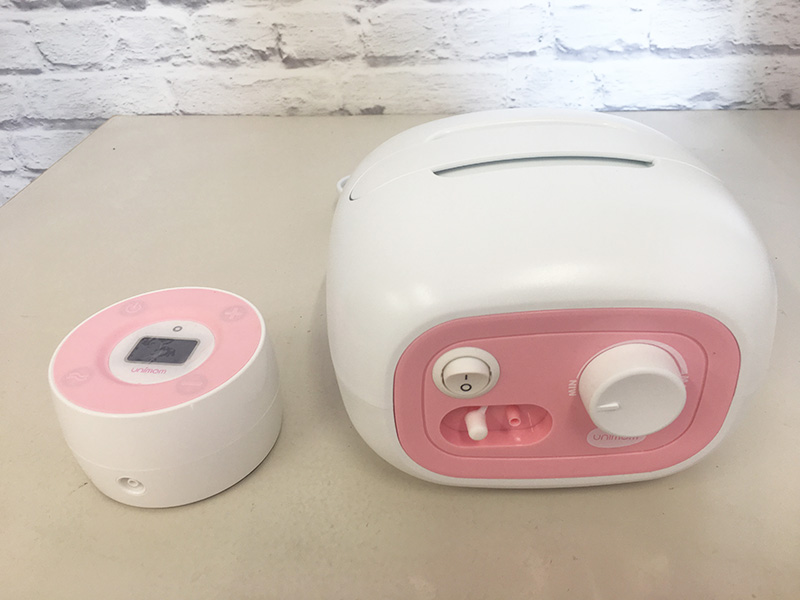 | | |
| --- | --- |
| Unimom Minuet Breast Pump | Unimom Forte Breast Pump |
Charging / Battery
The Forte breast pump has a normal plug, that you plug into the wall to power the motor.  You need to sit next to the power plug when using the pump.
The Minuet has a wall plug, and ALSO comes with a USB charger.  So you can charge up the internal battery and this will give you 2.25 hours worth of power – when you don't have to be plugged in.  This is a great feature if you need to use the pump and be mobile or travel somewhere.
Recommendation
These are both very good pumps, which one you choose really depends on how often, and where, you are going to use it.   If you have any other questions about these breast pumps, please feel free to contact us.